Salina, KS Auto Salvage Dealer
Charlie Heath West 40 Salvage
Charlie Heath West 40 Salvage is a licensed auto salvage dealer in Salina, KS. We offer quality and professional services. Our friendly and reliable staff is always there to assist you in all your needs.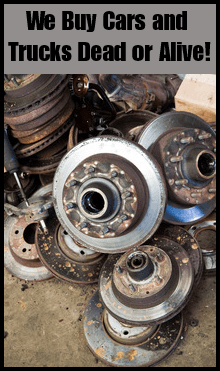 Learn More About Charlie Heath West 40 Salvage:
Dash gauges and controls
Seat and car covers / floor mats
Tire mounting and balancing / chains
Steering-rack and pinion
Used and rebuilt parts
Fuel injection parts
Wheels / tires / wheel covers
Body parts-fenders / hoods / doors / bumpers
Hoses-brakes, power, steering, braided, stainless
Engine parts
Sun roofs / roll bars
Clutch kits / brakes / shocks / struts
Fuel pumps / modules
Fiberglass / metal / plastic
Suspension / rebuilt axles
Spoilers
Exhaust systems
Foreign and Domestic
Contact Charlie Heath West 40 Salvage today at 785-823-8919 for inquiries.